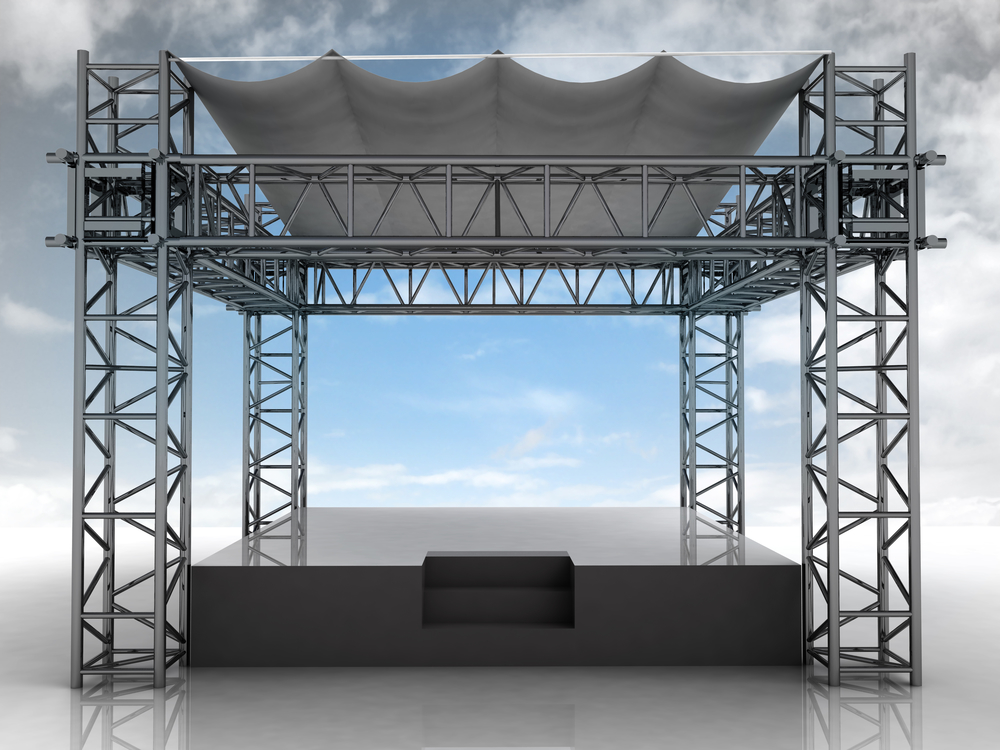 A makeshift stage and backdrop serve quite a number of roles in ensuring convenience and, also giving your event the desired appeal. While the stage provides an elevated platform from where the performers and actors can vividly interact with the crowds and, run the activities of the event, a backdrop will offer you a wide range of options for creating the right environment that will attract and capture the attention of your audience.
There are various kinds of backdrops for events that you can choose from including, digital backdrops. They are recommended for covering empty spaces, beautification, communication and creating a focal attraction. Modern digital backdrops are quite customizable and, can be easily enhanced using various features and accents like, lighting to create a unique captivating effect on the crowd and venue.
Although stages and backdrops can be permanently installed on open spaces for hosting various kinds of events, building the facility and equipment usually cost quite a lot of money that many small and medium corporate organizations cannot easily afford. Owing to the high demand in the space requirement, finding adequate spaces to permanently erect the structures is a great challenge faced by quite a number of organizations.
Benefits of Renting a Makeshift Stage and Backdrop for your Event
Regardless of how frequent you host events, building a permanent stage and backdrop is a very costly investment that you do not want to get into just yet. Besides, permanently built stages and backdrops have a lot of limitations, considering they can only be used in one venue. Besides, they can also pose greater challenges in cases whereby you have unexpected number of attendants to your event.
One of the key benefits of obtaining makeshift stage and backdrop rentals is their versatility. Since they are not permanently fixed to spaces, they can be easily moved from one venue to another and, also used at different types of events. Makeshift stages and backdrops are fabricated with unique features that can be customized right on location to suit specific venues, activities and needs of the guests.
Makeshift stage and backdrop rentals are usually crafted into smaller robust components, which are then assembled to create the full structures. Although each of the equipment has relevant features for easy and quick installation and dismantling, the procedures require unique skills that you can get from an ordinary event organizer or construction workers. Leaving the tasks to them could not only jeopardise your activities but, also put the lives of those in attendance at risk.
Even if you opt to purchase a makeshift stage and backdrop, you will still need to hire additional personnel to handle them. Besides, the stage and backdrop components also require frequent maintenance that could only push your operational costs much higher. As if that is not enough trouble already, you will also need more storage space for keeping the stage and backdrop components whenever they are not in use.
By acquiring a makeshift stage and backdrop rental, you do not have to bother about who will transport, set up and dismantle them since professional event equipment and facility rental suppliers will do all that on your behalf. As a result of that, you will not only be able to avoid the unnecessary costs of hiring event planners but, also conducting repairs and maintenance for the facility and equipment.
Professional events equipment and facility rental suppliers will not simply provide the required stage and backdrop for your event. Instead, they go an extra mile to also provide guidance in event planning, helping you with creating an ideal plan for the placement of the stage and backdrop for your function. Since makeshift stages and backdrops come in diverse dimensions and designs, they will also offer assistance in choosing suitable ones for your specific occasion and budget.
Makeshift stage and backdrop rentals are available in a wide range of sizes that cater for different kinds of events or activities and venues. When choosing the size of a makeshift stage, consider the available space at the venue and particular activities that will be performed on the platform.  Besides, makeshift stages are also crafted in diverse designs that you can select based on the theme of your event.
Obtaining a makeshift stage and backdrop rental can also help you avoid inconvenience in cases of malfunction or unexpected number of guests. In case any component of the facility and equipment encounters a problem, the supplier will always make sure that it is fixed immediately or provide a replacement in the shortest time. Even if you get so many guests than expected, the supplier will still make the necessary adjustments so the function goes on smoothly till the end.
Suppliers of event equipment and facility rental are always very keen on safety before, during and after the function. Apart from just conducting a proper inspection on the equipment before installation, they also closely monitor their performance from start to finish of the event to make sure you are not faced with any hitch. All these are a guarantee that your event will proceed as planned in greater safety and comfort.
When planning to acquire a makeshift stage and backdrop rental for your event, the first step should be requesting a quote. With a quotation, you will be able to easily come up with the right plan for creating a remarkable event that truly suits your specific goals. Besides, the quotation will also help you know in advance, what to expect from the supplier of the makeshift stage and backdrop rental.
At Event Rental Singapore, we are the ultimate supplier of event equipment and facility rental that can deliver the best makeshift stage and backdrop for your venue, function and budget. We provide a huge selection of highly durable, luxurious and attractive makeshift stage and backdrop rentals for all kinds of commercial and social events in Singapore. Besides, our professionals can also help you with various event planning procedures.
Talk to us today to easily get a free quotation for reliable and affordable makeshift stage and backdrop rental Singapore.